FAMILY STATE

Pardevalles Estate was founded in 1949 by Rafael Alonso, in line with a family tradition going back generations dedicated to growing grapes and making wine. At the present time the 2nd and 3rd generations of the family operate the Estate, preserving the essence with which it was founded.
TRADITION, INNOVATION AND GOOD WORK
The philosophy of the Estate is grounded in making wines which express the character and identity of their origin, with a deep respect for the earth and the indigenous varieties of grape, combining tradition, innovation, and good work.
PARDEVALLES ESTATE
The Estate is recognised as being one of the promoters of the Tierra de León D.O., where the development of indigenous varieties Prieto Picudo and Albarín Blanco plays a central role. Located in Valdevimbre, a village in León, near the Camino de Santiago (The Way of St. James), and famous for its hundred-year-old caves where long ago wine was made. In the present day the Estate combines modern facilities for making wine with a cave which is more than 300 years old - this is where the winery's barrel room is located.
THE VINEYARD
The Estate has 38 hectares of vineyard itself, planted with the indigenous varieties Prieto Picudo and Albarín Blanco. On these hectares precision vine growing is practised in order to harvest the highest quality grapes. The vineyards are based on quaternary soils with a large amount of rounded stones in the soil which absorb the heat of the sun during the day. This helps the plant to bear the low temperatures at night as well as to improve the ripening of the grapes. Climatology: Very continental, noticeable due to the high altitude of the vineyard (750 - 860 m), with marked differences between maximum and minimum temperatures and sharp thermal contrasts between the day and the night - circumstances which favour the development of aromatic substances in the skin of the grape. Average annual precipitation 400 - 500 mm. Earth: Plains of poor and rocky soils of alluvial origin.
THE BARREL ROOM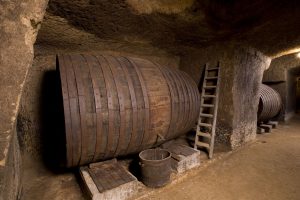 It is a historic subterranean cave which is more than 300 years old where the wine ages naturally and at a constant temperature of 12 ºC and a humidity of 75 - 80% all year round. The barrel room is made up of 125 barrels made of French and American oak.